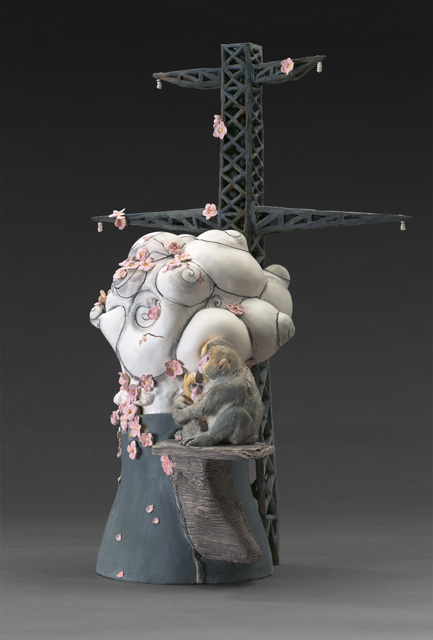 Seth Campbell
Ikebana. 2012. Ceramic, glazes, and multi-media. 23"H x 16"W x 10"D.
Traditional Ikebana uses a triangular structure to symbolize harmony between the three realms of heaven, earth, and man.
I made this piece in response to the Fukushima Dai-ichi disaster. Through this work, I consider my own and all of civilization's need for energy, and what's at stake when we use and generate power.
I will donate a portion of the proceeds to Peace Winds America. Below is information from their website peacewindsamerica.org.
"Greater readiness is the foundation for effective disaster response. Peace Winds America's network connects U.S. and Japanese resources and information to communities around the Pacific that need them most. We cannot control nature, but preparation and cooperation can keep a natural disaster from becoming a humanitarian crisis.'
- Rep. Jim McDermott, Chairman of the Board, Peace Winds America

Relief and recovery operations continue in Tohoku, and Peace Winds is leading the way. We are on the ground in both Miyagi and Iwate Prefectures. Our current programs focus on better living conditions at temporary housing and on livelihood restoration.
Seth Campbell
Barry Ward
---